TFLO Skills Academy
We have been fortunate to work with basketball players at all levels. We offer training programs for 5 year olds to 18 year olds year round. This helps us continue to create innovative drills that we can use in a camp setting. Through these workouts we take different drills and techniques and apply them to our camp layout and station make up. When an athlete comes to one of our camps we want to make sure they are constantly moving, consistently learning, and productively being motivated! We know what it takes to reach new heights in individual development. We want to show our athletes the type of effort and work ethic it takes for them to accomplish their goals.
NY Havoc Prospect Camp
October 27th @ Neff Center 
1010 5th Ave Troy, NY 12180
Open to all current and prospective players! Camp filled with skills & drills with the intensity and detail of a team practice/workout!!  
Purpose of camp:
Allow prospective members to experience the culture & atmosphere of NY Havoc

Ballers able to show their skills to Havoc coaches in a structured environment 

Opportunity for coaches to evaluate and identify prospective middle school Bluebloods

Final evaluations for high school team placements (No tryouts for HS teams)

3 hours to compete with and against the best talent Upstate NY has to offer!!!

Special guest speaker
Open to all Girls in 6th-11th grade
Limited to 44 athletes per session!!!
All participants will receive a Havoc t-shirt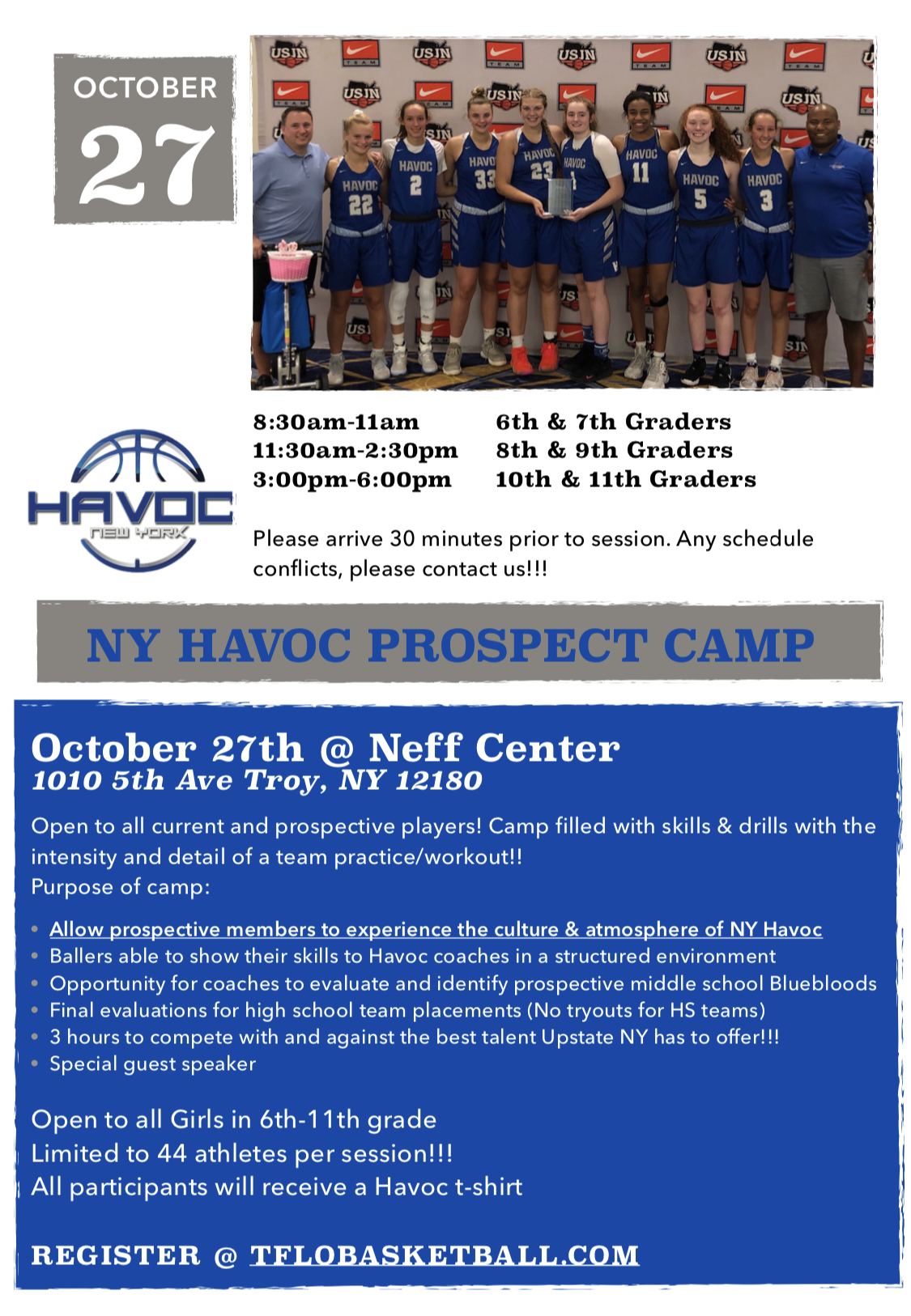 2019 FALL TRAINING CAMP
BEGINS SEPTEMBER 7, 2019 
 NEFF ATHLETIC FACILITY
1010 5th Ave. Troy, NY 12180

What is the Fall Basketball Training Camp?         

8 weeks of weeknight workouts that incorporate 90 minutes of skill development with 35-45 minutes of age based strength training. In addition to weeknight workouts, athletes will have weekend workouts on Saturdays and structured full court games on Sundays.




Who can register for the Fall Basketball Training Camp?

Boys & Girls Grades 4th- 12th

This program is open to ALL athletes regardless of skill level, school district, AAU affiliations!





FOUR SESSIONS (Each session limited to 24 participants)

Session 1: M/W  
6-7:30 On-Court Workout
7:30-8:15 Strength & Conditioning
Boys & Girls grades 4th-7th


Session 2: T/TH
6-7:30 On-Court Workout
7:30-8:15 Strength & Conditioning
Boys & Girls grades 4th-7th




Session 3: M/W  
7:30-9:00 On-Court Workout
6:45-7:30 Strength & Conditioning
Boys & Girls 8th-12th

Session 4: T/TH 
7:30-9:00 On-Court Workout
6:45-7:30 Strength & Conditioning
Boys & Girls 8th-12th




Huddle Dates 
September 7th, 21st, 28th
October 12th, 19th

In-House League Play (UAlbany Style Games)
September 8th, 22nd, 29th
October 13th, October 20th